The future, the present, and for some time even the past has been mobile apps. You won't be surprised to know that the global mobile app revenues went over US $365 billion in 2018.
Statista has reported that apps are expected to generate more than the US $ 935 billion in 2023.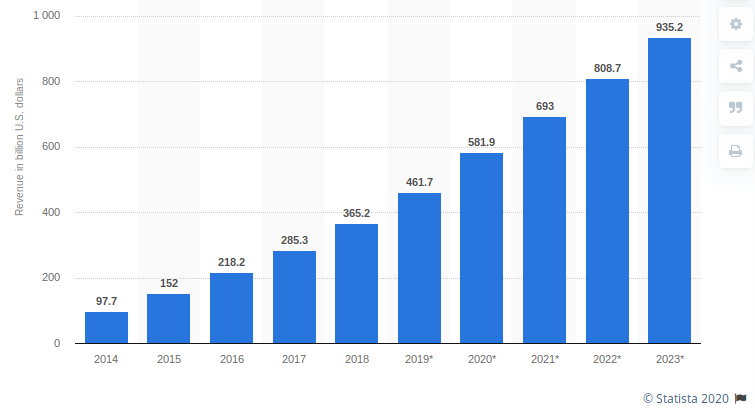 Mobile applications have clearly proven their worth and if you have come across this blog, you would have decided to get an app developed for your business as well.
We, at Space-O Technologies, have developed over 3500 apps and have worked with over 1000 clients. So, we have decided to answer all the questions of our readers still mulling over how to hire app developers.
This blog will help you answer a number of questions:
How to get an app made
Can you hire someone to build an app?
Where can you hire someone to make an app for you?
How to hire a perfect mobile app developer
How much does it cost to hire an app developer?
Introduction
We understand that your app concept is your baby. You wouldn't want an irresponsible or inexperienced Nanny to handle your brainchild. After you think of a great idea, the next thing to do is to find an app developer. 
Finding an app developer could become a strenuous task unless you know your options. We, at Space-O, make applications for a living and we speak from experience of developing over 4400 mobile apps.
We have dealt with enough clients to know what kind of doubts arise while hiring iOS and Android app developers. This blog will explain to you which questions to ask yourself and how to make the decision in the right way.
Want to Hire Experienced App Developers?
Our mobile app developers have built more than 4400 customized solutions. Let's help you to build yours.
Before you start looking for app coders, first let's understand a few things about hiring app developers and how you could find one that perfectly fits your requirements.
How to Hire Best Mobile App Developers in 6 Easy Steps
In this image, you will get the answer to how to hire an App developer. We have shared 6 steps to hiring mobile app developers. You can consider these steps if you have planned to hire someone who can help you to build apps.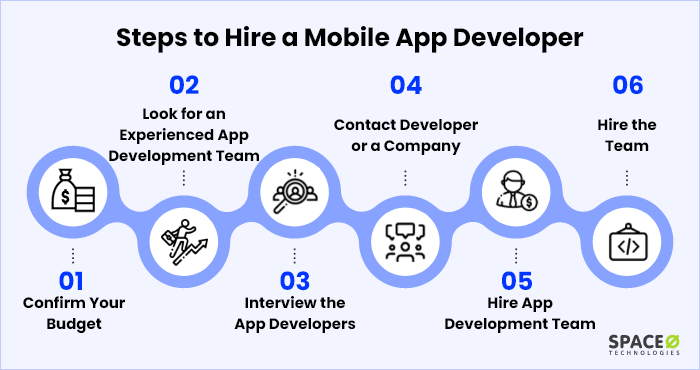 Here are the detailed steps to follow to hire an experienced mobile app developers.
Confirm Your Budget

Confirm your budget, list out all your requirement, platforms like Android, iOS, Web, and take the first step. Decide whether you want a freelancer or want to hire an app development company. 

Before hiring, you need to be sure whether a freelancer is enough to handle your concept detail and project needs. Never compromise your project concept, quality, app design, or functionality due to money constraints.

You do not have to spend a lot of capital on your project but you also can not make the constraints too tight. You need to be a little flexible but must have a range that you do not want to cross. So, check your requirements and according to that, you can estimate your budget limit.

Look for an Experienced App Development Team

Start looking for an app developer for hire or an experienced company. You might wonder "How to find an app developer? " or "Where to find an app developer?".

The answer is Freelance websites, tech blogs, GitHub, online directories like They Make Apps, and job boards like Get Apps Done, or references from people you know. Another example would be that of Clutch. Clutch.co is one of the best sites to find an established app development firm.

If you are looking for an iOS app developer for hire, you may try the iPhoneDevSDK forum. Looking for an Android app developer for hire, try Android Forums or AndroidPit. Koding, Topcoder, NewAppIdea, Polycom are general app developer communities.

You may also check official groups of Google, Facebook, Apple, and Windows developers. Platforms like LinkedIn, Indeed, Upwork, and even Reddit are helpful for hiring a full stack developer.

Source – Upwork

Interview the App Developers

Screening or vetting is the next step in hiring mobile app developers with good experience. You need to select and list out a few developers according to your need.

How do you choose? Not only the years of experience, but you also need to find developers that have experience in developing similar or the same applications in the same niche.


You could check their portfolio and even download some of their applications and test them. A full-proof way could be reading client testimonials or users' feedback that vouch for the company or the developer. You could contact them and cross-verify whether this is a genuine and quality service. In fact, you even get to know what you can expect from the service.

Contact Developer or a Company

After evaluating the developer and their competitors, you should contact them personally. Talking to them yourself will help you give proper judgment. You could inquire about their technology, user experience, designing skills, and payment model, keeping in mind what you need.

While hiring a developer, you can not just search for "mobile app programmers for hire near me" and hire the top results. You need to make sure that you interview the developers you're going to hire.

A reputed mobile app development agency will give you the option of hiring a developer or a dedicated team after you see their resumes and interview them.

You can make sure that you find the exact skills of a developer you're looking for. You can check their previous experience, projects, and client referral before you look and hire a developer to build your app. After the interview procedure, you should discuss the terms and conditions from your and their side.

NDA Template for App Development

If you do not have a copy of the NDA, we have prepared one for you – download it by clicking on the download now button.

Download NDA Agreement Template

Why do the hard work when we have done it for you? Get our NDA template for free.

You need to know about any loopholes in their payment terms, whether they sign an NDA to protect the code or not (very important to protect your application idea). It is also important to know about the app development process, contracts, how they code, and style of working.

Look for the Full Stack Mobile App Development Team

If you're looking to build your app with complete details, it is not about only coding. There's more to building an app than just coding. You need to hire someone for business analysis, a designer to design the UI/UX of the app, maybe even a QA tester who will test the code of your well-rounded app and solve any bugs. You're going to need an app development team if you want to make an app like this.

You can get an entire package instead of a single freelance developer when you ask for a whole package from a reputed agency. Everyone in the development team will dedicatedly perform the task they're hired for and the entire process is finished seamlessly.

Hire a Team

Finally, it's time to hire the best mobile app developers! After you have found the right development team, you can discuss your non-disclosure agreement to protect your code and terms and conditions. After signing the required documents, you can start your development process with your app development team.

Finally, it's time to hire the best mobile app developers!