If you want to create a custom app and want to know how to make money out of it, this blog is for you.
Note: If you are searching for how to make a free application, this is not the right place. We develop custom applications for Android and iOS and these mobile app development services are chargeable.
As the free apps market has always outnumbered the paid ones in terms of profits and download numbers. Most people often ask a common question – how do free apps make money?
Before answering this question, let's discuss a few discuss statistics about Android and iOS mobile apps.
As of 2022, 96.8% of Android apps are free, in comparison to that, only 3.2% of Android apps are paid on Google Play Store.
Based on these statistics you should know the majority of the apps are free on Play Store and App Store.
But, how do app businesses earn money with free applications? Learn the complete monetization strategy by going through this guide.
Free and Paid Apps Download Statistics
1. 82% of the mobile apps available through Amazon apps are free, and only 18% of mobile apps are paid.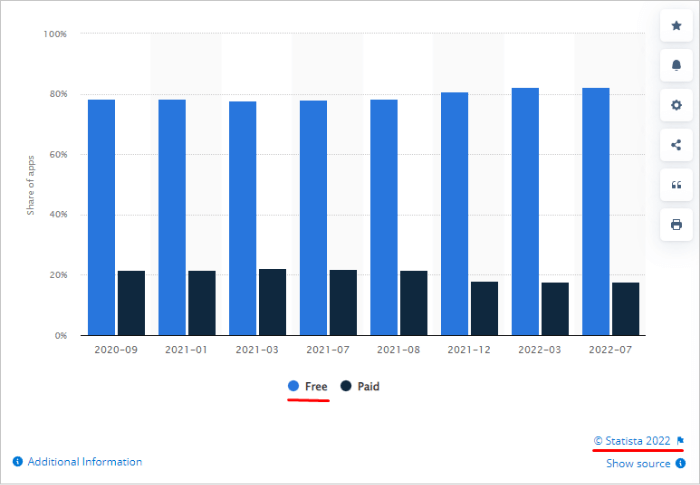 2. In 2020, there were almost 218 billion app downloads (TechCrunch, 2021). a rise of 6.86 percent over the previous year. Between 2018 and 2022, when predictions indicate there will be 258 billion app downloads globally, experts expect there will be a 25% increase in global mobile app downloads.
3. In 2021, users spent 6 billion US dollars on the top subscription apps through the App Store, compared to 2.5 billion US dollars in the Google Play Store.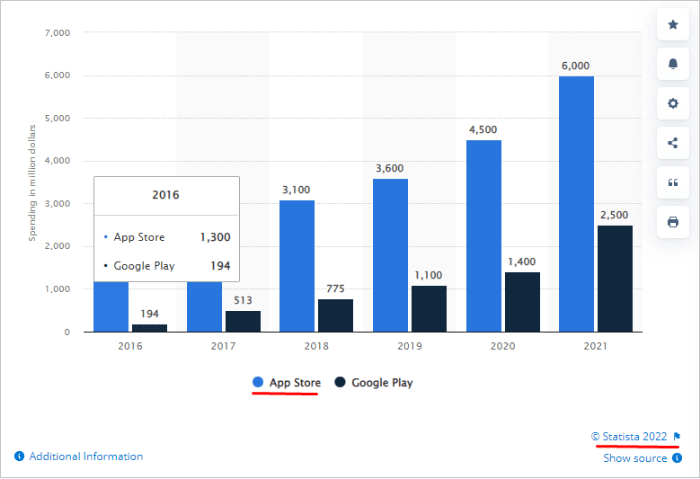 Want to Create an App for Your Business?
Talk to our app consultants. Our experienced app developers have created more than 4400 mobile apps. Share your app idea with our app consultants.
11 Most Popular Revenue Models for How Do Free Apps Make Money
Wondering how to make money with a free app? We have discussed 11 well-known revenue models that will answer your question.
Advertising

Advertising is probably the most common and easiest to implement when it comes to free apps makes money. And it is also done via a third-party ad network.

According to the latest report and study by Statista, here are the details on mobile advertising spending in the year 2022 and expected in 2024.

The year 2022: $336 billion
Expected in 2024: $412 billion

Whenever this question comes: how to make money from mobile apps? your first thought would be to use ads to monetize apps and make money and there is nothing wrong with it. An app owner just needs to display commercials inside their mobile application or opt for affiliate marketing and get paid from the third-party ad networks. Additionally, advertising is considered the finest way to earn money from apps. As an app owner, you are just required to showcase your commercials within the mobile application, hence you can be paid easily from 3rd party networks and commercials.

Mostly, the app owners are paid when the user clicks or hits the ad or when the user installs the application via advertisement, the app owner gets paid.

You can get paid every time an ad is displayed (per impression), per click on the ad, and when a user installs the advertised app. Being a free version app, you can also run ad campaigns to generate ad revenue for a specific period of time.

There are mainly 4 types of display ads that are displayed by the app providers for monetization. But, as an app owner, you need to monitor whether the targeted users are finding these ads entertaining or are they adblocking them.

Interstitial ads:

This type of app advertisement is full-screen pop-ups that are displayed at specific time frames. Users can close this ad by a close button in the upper left or right corner.

For example, an ad can be displayed when a user finishes editing a photo and saves it in the gallery.

This method is used by Gaana, which is a great example of money making apps. This app by integrating such ad tactics without any advertising fees has managed to enhance its app experience.

Banner ads:

These display ads are displayed in different sizes and at the top or bottom parts of the app screen. They are often small and less obstructive which helps users to freely use the app.

In-app video ads:

These ads are displayed automatically and generally used as a reward video in exchange of some in-app rewards. For example, by watching the ad video, the app users can get the app currency which can be useful for either unlocking levels in the game or getting additional features. This is the popular ad revenue model among users.

Native ads:

Native ads are integrated to appear as a natural element in the app. Most of the time, it is manifested to promote a product or a mobile app. In this case affiliate marketing will help in user engagement for your app for free.

This method is getting more and more popular these days because the users are less irritated and intrusive with such ads.

However, one point that you need to know about native ads is that their revenue can be pretty low compared to other methods. And despite the mobile app developers think of native ads as the best strategy, it is the most hated by users.

Rewarded Videos:

This is the most effective advertising model when we talk about in-app ad integration. Online users watch them in exchange for points, lives, or virtual goods. Through such an ad model, it is easy to make money, as an advertiser you are able to communicate brand messages effectively.

The biggest advantage of using this ad campaign is high retention rates, as users receive a reward for watching these ads. It works best top grossing apps and for the gaming apps market, the gamer like free things, the effective cost per millie with this type of advertising is higher than for any other ad type.

Now, every app monetization model has some pros and cons, as the great philosopher once said everything has two sides good and bad, let's have a look at the gist of this app monetization strategy.

Pros
Cons

It adds up to your app's primary income through CTR

In-app ads have a higher probability of reaching the target audience

Ads help in measuring user interaction
Video ads generate higher traffic than social media networking, web browsing or audio ads

This model is effective only with apps that have a large pull of users

Irrelevant ads-if your ads are entirely different from the context of the app category

Non-appealing ads-easily gets ignored by the online users

It might create an interruption in the app with user navigation

Subscriptions

Thinking about how does an app make money? Using a subscription strategy is considered the finest and most useful app monetization strategy. If you are wondering how to monetize an app without ads, then consider choosing a subscription method.

App publishers can choose to offer free content in their apps for a limited amount of time and then charge users a subscription fee that will allow them to access full content without any restrictions.

The popular and common technique used by the majority of free app publishers is to offer a free trial period and then charge the subscription fee to those who wish to continue to access the app content.

This type of strategy is often used for cloud services, audio and video streaming, and online news services.

To ease the integration of this revenue model, Apple is paying extra attention and making significant changes in how app subscription models work. In the present model, Apple will maintain its current 70/30 revenue split for the first year of subscription. After one year, the new 85/15 revenue share will automatically be implemented.

This new format was made to encourage app publishers to sell their apps for a recurring fee instead of a one-time cost. But despite this, only 5% of the most successful apps are using a subscription revenue model or developing subscription-based mobile apps, according to Sweet Pricing.

Before concluding this business model, let's have a look at this strategy's pros and cons.

Pros
Cons

It is an apt model for cloud services that provide audio & video content providers like Spotify

More engaged and serious audience to use the functionality of the app

It results in a more reliable income
Apple store rewards the app to keep the customers for a longer period of time

You need to continuously innovate the feature and content for app subscribers

Transitioning from a one-time fee to a monthly charge can result in some serious backlash from existing users

Free trial period is a must and may require tweaking

Small business probably won't have enough value to justify asking for recurring monthly payments

Have a Mobile App Idea in Mind?

Contact us. Let our experienced app development consultant guide you on how to proceed further.

Selling Merchandise

Another innovative approach is to sell merchandise in your free mobile apps.

You might be wondering how to make money from the app? Here is the answer to your question.

Many e-commerce businesses build free versions to sell physical goods such as toys, shirts, shoes, etc. these physical products can be sold directly to the app or via email marketing.

To encourage app publishers to use this strategy, Amazon has started a service called Merch by Amazon that allows publishers to create their artwork, upload it to their platform and promote their products. It is a win-win strategy for the owners and app users.

To make things easier, Amazon even takes care of the payments and delivery of items.

Now, have a look at these pros and cons that will help you in deciding whether to select this monetization model to get your free application idea.

Pros
Cons

Selling online allows you to reach more people anytime, anywhere

It is an additional convenience feature, enabling users to browse their inventory & order accordingly

The endless aisle where shoppers never have to leave empty-handed

software integration issues-eCommerce solutions can take time and increase data errors

Poor inventory visibility

Disjointed shopping experience

Poor m-commerce experience in this mobile app world you need to have a user-freindly smartphone version of your business.

In-App Purchases

How does free apps make money? One of the best app monetization strategies is in-app purchases. It is directly made within the free mobile apps and are usually quite a simple process. They're typically used to access special contents or features such as powerups, restrictive levels, or additional features.

The in-app purchases are distributed to access the powerful and advanced features to allow much swifter and empowered user interaction

In simple words, in-app purchases model provide the ability to sell a variety of virtual items directly from the app. The best free game apps like Clash of Clans, Angry Birds, have enhanced their user experience by providing users with in-app purchases.

According to Forbes, apps with in-app purchases generate the highest revenue for their publishers. This monetization strategy is also expected to dominate in the years to come.

Generally, this model is used by game publishers, mostly because of digital money. In fact, half of the games provide more than one game currency such as gems, coins, and gold. Such in-app purchases play a major role in app downloads.

Overall, this is an interesting model for converting non-paying app users into paying users without being too intrusive. Although, you've to keep users hooked in your free mobile apps so that they keep paying.

According to the survey by tech company Fyber, "Among ad agencies and brands, there are a number of brands, approximately 77%, which have asked their agencies to invest in the in-app purchases inventory."

Well, both UK agencies and advertisers are now spending the majority of their advertising budgets on mobile. The reason for investing in in-app ads is that the format is more reliable than mobile browser ads. Moreover, improved engagement is another core reason for in-app purchases.

Furthermore, according to the report from Business of Apps, "The formats playable ad formats, rewarded videos & opt-in are seen as the most effective in-app purchases method."

Before concluding this business model, let's have a look at this monetization strategy's pros and cons.

Pros
Cons

There is a good chance to obtain high profits from a low-monetization method

This model is best for gaming apps as games provide more than one currency such as gems, coins, and gold

It is the key to provide more advanced services through your appn
Credit details are secured safely for in-app purchases

In-app purchase if implemented poorly can lead to bad reviews and frustrated users

User expextations are much high when they buy in-app purchases

Developing apps cost will be high in designing advanced level features and functionalities

Thus apps also make money without ads, in-app purchases, and selling merchandise. Check out 7 more monetization tactics, namely

1. Sponsorship

2. Referral marketing

3. Collecting and selling data

4. Freemium upsell

5. Physical purchases

6. Transaction fees

7. Crowdfunding

Sponsorship

Sponsorship is one of the less commonly used monetization methods, but it can be still an interesting strategy.

In simple words, Sponsorship in your mobile applications can be a powerful app monetization strategy if the app publisher builds the right niche app for a targeted audience and launch it on behalf of another company.

Similar to websites, app publishers need to consider sponsors whose target audience is the same as the one being addressed by the app. Before building the app, creating a list of organizations and brands that could benefit from the partnership is a good starting point.

A good example of this how you can make money from apps through sponsorship deals is Home Depot sponsorship on the Weather Channel App. the animated app background behind the temperature measurement is the advertisement placed by the sponsor to target homeowners interested in weatherproofing their houses.

Now, have a look at these pros and cons that will help you in deciding whether to select this app monetization model for your free app idea.

Pros
Cons

It involves offering advertising space within your app to brands with exclusive content or discounts

Brands can outstand their presence in the app and users get exposed to certain offers and discounts

Minimal disruption to user-experience

Your app has to have a strong brand behind it with sophisticated data and users

For performance tracking you need to develop tools for measuring success

If you work with the wrong people it is likely to affect your app's ROI

Referral Marketing

Referral marketing involves promoting a third-party product or service as a way to optimize revenue opportunities.

App publishers can promote or sell affiliates' products or services based on the number of clicks or installs. For this, you can use pop-up ads to promote someone else's app or advertise products.

There are different types of referral marketing models that publishers use in their development.

Cost per acquisition or Cost per action (CPA):

There is a number of affiliate networks from which you can find the one that suits your free mobile app. In this model, you can either promote other apps, advertise products with pop-ups, or promote apps through an in-app store and earn money.

Cost per click (CPC):

This type of revenue model is based on the number of clicks on an ad displayed. You can join popular networks such as Adfonic or Google's AdMob for this model. They both provide text and display advertisements which will help you to earn money for the app.

Cost per view (CPV):

This model involves charging based on the number of ad interactions or video views. Smartphone game development company BrightHouse successfully increased its app earnings by 130% through cost-per-view networks.

They used video as well as interstitial ads in their smartphone game to create natural breaks in between game sessions.

Cost per install (CPI):

Cost per install is a relatively new marketing mechanism and is the mobile equivalent to CPA (cost per acquisition) in the web marketing world.

Cost per install is exactly what it sounds like – you get paid for each install of the advertised app in your free app.

There is a number of platforms providing software to install into your app. The best example of this model is Chartboost and Playhaven. Both are third-party networks that have software that you install into your app.

The fee for this network ranges from $0.80-$3.00, and online affiliate networks have a range of campaigns for global traffic generation while promoting other apps, making it a lucrative market to play.

Now, have a look at these pros and cons and decide for yourself whether to go for this monetization model or not.

Pros
Cons

It is an apt way to promote the most loved or sold product in the app

It is the most trusted and influenced monetization model for apps

Referred customers are both profitable and loyal in the long-term

It is a time-consuming program

Tracking a referral campaign is complicated and requires the development of other tools

No multiple referral programs

Collecting and Selling Data

As you know, apps collect a lot of users' data, in terms of user behavior or other app usage. All these user behavioral data are desired by many researchers in different fields.

This means the app for free publishers can sell their users' behavior data to these researchers and make a handsome amount of money. The data generally contains users' email addresses, social media accounts, and personal preferences.

There are two ways to benefit from this model. You can either track what users do and sell data to outside companies and researchers, or you can use the raw data for your own purposes.

From a marketing point of view, companies want to pay for displaying ads to the most relevant audience. So if you can gather enough relevant data, then you can have a way to make a profit out of it. If you have a question about how to make money creating apps for Android, please feel free to look at the below image to get the information about monetization strategy. The same strategy applies to iOS apps as well.

Before concluding this business model, let's have a look at this monetization strategy's pros and cons.

Pros
Cons

Through this model, you will easily avail of consumer segmentation and make the buying process quite easy

Such data is a helpful tool in identifying and listening to consumer voices and make them available to apt companies

It can result in genuine monetization app model

Disclosure of a consumer's data

It is tough to maintain accountability with customers

It is hard to govern customer data security

Freemium Upsell

When it comes to talking about freemium upsell, freemium apps are available free of cost to download but contain paid or premium features. These paid and premium features can be accessed through in-app purchases.

In this type of freemium model app, users download the app without paying any charge, and if they like its content of it, they can get full access to functionality by committing a purchase. Using this tactic, gaining lots of new users is easily possible because premium features are optional.

According to a mobile application development business, in freemium upsell, customers can download apps for free but must pay for additional or premium services. In-app purchases, which have been integrated, can be utilized to access such features and other android app development services.

Also, custom iOS and Android app creation services offer a variety of possibilities for creating free apps, and business owners are making use of these opportunities to make money and attract customers.

Moreover, this strategy is extremely common for education and health, and sports application, allowing users to get premium features at a particular cost.

Now, have a look at these pros and cons that will help you in deciding whether to select this freemium model for your free app development idea.

Pros
Cons

No intrusive ads

This model is compatible with any other approaches

It is a low maintenance app monetization tactic
This model has wide reached as it is free for the users

Revenue fluctuations

All maintenance costs are on you, as te app is free of cost

Users have spent nothing on your app, thus, they can easily abondon it

Physical Purchases

There are many eCommerce businesses and startups that have started using free applications for selling their products or physical goods like mobile cases, t-shirts, toys, etc. via developed apps on the app store. Let's take an example of one such free application, Angry Birds, that increased the profit from branded products.

Through this free gaming app, Rovio company sells approximately 1 million branded t-shirts, backpacks, and stickers every month. In fact, Amazon is offering a way to get revenue from merchandise by creating a Merch self-service program to sell custom branded t-shirts from their apps.

Before concluding this business model, let's have a look at this monetization strategy's pros and cons which will make your vision more clear while thinking about making money from free apps without ads.

Pros
Cons

This business model is flexible for every vertical

This can help marketers to make comfortable profits with the lowest amount of risk

This model can also be adapted to include affiliate programs and partnerships that drive referral revenue

Apps will need to be more transparent of their app store listing page if they include physical purchases

It is difficult to predict the behavior of the users and thus unpredicatable income

This model is hard to compete

Transaction Fees

The best way to monetize your apps is through transaction fees. It is the best way to make money from your apps on the app store. It is especially possible with those apps that provide a platform, where digital transactions occur on a regular basis.

Let's take an example if your mobile app has an option for third parties to sell their products and those purchases can be carried out online, then you can charge transaction fees. You can charge a small fee for every single transaction that occurs on your app and makes a lot of money. This way, you can make your mobile apps to earn money without investing much money.

We have curated some pros and cons on transaction fees which will give you a clear idea about it's loopholes.

Pros
Cons

It is an income generation in disguise

This model promotes cashless transactions

No user credibility is harmed

Fixed income-you cannot make changes in the cost

It is not compatible with any other monetization model

Crowdfunding

Another monetization way to make money from free apps is crowdfunding, which is new in the industry. In this method, startups and companies share their idea on platforms like Kickstarter, Patreon, Crowd Supply, Fundable, Indiegogo and Chuffed in search of donations to fund the development and promotion of the application.

According to Mobile Growth Stack reports, non-gaming mobile apps are highly preferable in crowdfunding. As of May 2017, there were approximately 138 non-gaming apps that known to raised funds between $10,000-$100,000 as compared to 29 mobile games that got a similar funding goal.

Before concluding this business model, let's have a look at this monetization strategy's pros and cons.

Pros
Cons

Access to cheap money

Pre-funding your next product

Easier investor relations

Increased transparency

Expensive fundraising

Running a crowdfunding campaign takes a lot of time and it might fail at the end

Want to Build a Mobile App?

Hire our experienced app development team that has experience building 4400+ mobile apps. Get a custom app development quote for your requirements.

Best App Monetization Methods According to Mobile Publishers Worldwide

According to Statista, a global average of 37% of applications include paid ads, while 25% of U.S. apps made revenue through the use of ads.

Other statistics suggest that video ads were the most powerful monetization strategy according to a global app publisher survey. 82% of app publishers stated that they utilize video ads to make money from mobile gaming content. On the other hand, non-gaming publishers were 76 percent in total.

If you are still wondering about the difference between paid and free app versions. Herein, we have narrowed down a gist for you.

Difference Between Free Apps and Paid Apps

Free apps
Paid Apps

These apps obviously attract more targeted users and increase visibility and downloads.
To avail, great reviews, these apps, are a great way to optimize your app on the app store.
They are less expensive as they are not complex than the paid ones.
Multiple monetization possibilities in the future
They help in building brand image and name in the online world.

The paid app has fewer downloads, you will automatically lose potential clients who are not willing to pay.
Higher user expectation- you will have to make sure your app works flawlessly and offers a full set of features.
The development and design of paid apps is quite high
Limited monetization options- monthly and yearly fees.
Even with lots of great reviews, people are less likely to purchase an app if they can't try it out first.

Ok, so you can clearly see that there's a lot of different ways to make money by developing an application, but which are the top options here? How do people make money from free apps in these ways?

In a nutshell, You can use this free app monetization strategy out of the list of 11 strategies: Advertising, Subscriptions, Selling Merchandise, In-App Purchases, Sponsorship, Referral Marketing, Collecting and Selling Data, Freemium Upsell, Physical Purchases, Transaction Fees, and Crowdfunding. If you are wondering how apps make money or want to find out how to earn money from apps, then let's analyze the top and most popular revenue models of how to make money on free apps.

3 Tips for Choosing the Best App Monetization Methods

Keep the type of app in the center

Before deciding on any of the monetization models, you need to understand the type of your app. What and how does your app solves a problem?

Once you have a clear idea about the purpose, you will be able to select the apt monetization method for your app on the app store. For example, subscription models for content and service apps. And it is not likely to work for single-purpose apps, gaming apps, shopping apps.  

Competitor analysis

The competitive analysis is not just for features, functionalities, and the design of an app. With the proper study of your alike competitors, you can easily find out the monetization business model for your app. Ask yourself certain questions like how competitors are earning money? How strong their monetization models are? Is there any loophole that can become an opportunity for you?

Know your target audience

To successfully earn online revenue through app monetization strategies, you need to study your target audience beforehand. Who are they? What do they need? How much they are willing to pay? In short, users should know the real value to make purchases.

After going through all these how you make money from free apps, you are nearly ready to develop your idea in an app. Our application developers have prepared an easy app cost calculator so that it becomes easy for you to have a rough estimation of your app development cost.

We have discussed how to make money with apps, below you will know the cost to develop an app. Have a check.

How Much Does it Cost to Build an App?

The cost of app development ranges from $10,000 to $1,00,000.

However, the cost depends upon complexity, app requirement, and timeline. If you are planning to develop basic mobile, it will cost you between $10,000 to $50,000, however, if you are planning to build a complex mobile app, it will cost from $50,000 to $2,00,000.

To make it easier for you, apply a formula to calculate your app development cost.

Let's take a quick example that will explain to you how to calculate the app cost.

Development hours for user's app: 300

Development hours for driver/ instructor/ delivery man app: 195

Total hours spend to make a mobile app: 495

Now, for professional mobile app development, of course, you will hire a professional application development agency like us. Normally, we do charge approximately $30 for an hour.

Taking this cost into consideration let's apply the formula, the result will be.

Total app development cost = Estimated Hours (495) * Hourly Charges ($30) = $14,850

The cost also varies as per your selected types of apps and their technology.

If you have calculated your app development cost, here is an insight into the mobile app revenue over the years. Have a look at the futuristic scope of the app world.

Let's Talk About the Future of Free Apps

As you can see from the above-mentioned statistics of the respective app stores, the growth of the mobile app market isn't stopping anytime soon. Despite increasing competition in the industry, publishers are also applying new monetization methods and creating more useful free apps for users.

None of the above-mentioned monetization options could be described as inefficient. In fact, app publishers have gained skills in using these models in particular cases.

For example, the subscription model works only for a certain niche but is the most profitable of all if deployed correctly.

Besides this, hybrid monetization models, such as in-app purchases and in-app ads, are clearly gaining popularity in the business world. Most mobile application developers say that in-app advertising is set to be a key driver of overgrowth in upcoming years.

Only time can tell the real truth of how the mobile app market will develop. But for now, current market trends show that the market will continue to generate higher revenue in the foreseeable future.

Frequently Asked Questions

How does a free app make money without ads?

To create online revenue there are other ways than ads, paid installs, in-app purchases. There are some innovative strategies to monetize mobile apps.

Expand to gaming
Freemium app
Subscription-based model
Join an app referral program
Social media integration for more users

Before you choose any of the monetization methods for your free app, think about the users. You must select a method that does not annoy them while functioning in the app and they retain the app for a longer time period.

Is it hard to make an app?

The steps of making an app consists of wire-framing, app design, and programming. If you hire an experienced and skilled mobile app development company like us then you will have steady and concrete app development. It all depends on your app development idea and its basic gist to the firm you are approaching for development.

How much money do apps make per download?

In fact, an app does not get money from the downloads. At least not on the App Store or Google Play. Amazon underground is the only platform where you will get paid users using your app.
Apps can make money through many monetization methods, but there are 3 common ways

Outright Sales (your paid app)
In-app purchases (purchases made within your app)
Advertising

How much money does a free app make from ads?

Most of the advertising networks follow the cost per click (CPC) model for the app. So whenever a user clicks on an ad, few pennies are added to your pocket. The average revenue per click is around $0.10 for banner ads. The minimum or optimum click-through ratio (CTR) for an app is around 1.5-2%. It also increases user engagement in the app.

Bottom Line

With so many app monetization models to make money with apps, it is important to note that each method has its own benefits and drawbacks to give while monetization of the app. However, trying out these tactics and analyzing what competitors are doing is a good starting point. Now, you might have got the answer to your questions like how much can you make from an app, how to make money with a new app idea and how to make money off a free application or found different ways to make money from free apps.

So when start working with a reliable mobile app development firm, you should take the app structure and target audience into consideration before choosing the monetization strategy. So, that you strategize clearly about how to make money developing apps.

In case, if you still have any query or confusion regarding creating an app that makes money, like:

How to monetize mobile apps?
How to make money off an app?
How to make money from an app idea?
How to make money from iOS apps or Android apps?
How do you create money-making apps in simple steps?
How long does it take to make an app?
The average cost of developing an app

Then get in touch with us through the contact us form. One of our sales representatives will revert to you as soon as possible and discuss such apps that make money and how it is possible. The consultation is completely free of cost.