Instagram
Like App
Development
Want to create an app like Instagram on Android and iOS platforms? Want to create a custom Instagram-like app with advanced features? Let's get in touch. We have experience in developing over 40+ photo and video sharing applications.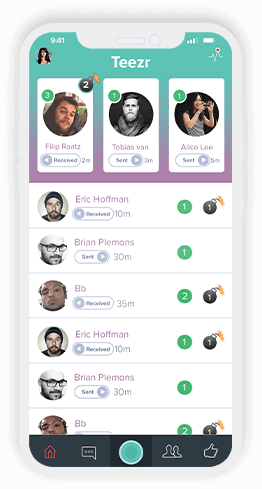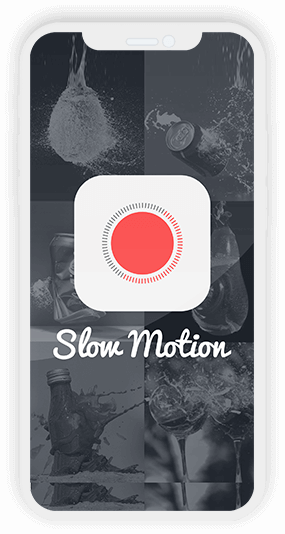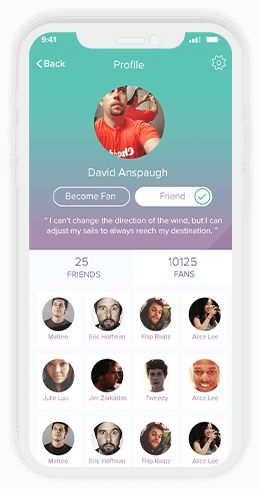 Instagram Clone App
The rapid growth of photo-sharing apps like Instagram has influenced a lot of entrepreneurs and startups to develop their own custom Instagram clone app, letting people share pictures and videos publicly.
So, if you are also looking to hire best mobile app developers to create native Android and iOS Instagram like app, we have an experienced mobile app developer team to customize and develop Instagram like application. Making use of advanced tools and technologies, we reinvent internet-based photo and video sharing apps for iOS and Android platform.
With the main aim of building the best user experience, our team follows agile app development process to build top photo-sharing app like Instagram, allowing users to upload pictures & videos with just a few simple taps on the screen.
Talk to Our Expert

Mr. Bhaval Patel
Looking to turn your photo and video sharing app idea into a successful app? Get in touch with our expert, who will suggest an optimal solution!
Core Features of Photo & Video Sharing
App Like Instagram
Want to make an app like Instagram? But thinking of how to build app like Instrgram with top features? We have developed over 40 photo and video apps, and many of them have successfully secured their places in the top Photo Video apps category. To make best like app for Instagram, we included many useful features. Features that help your users to share photos/videos, manage profile, and stay connected with friends through messaging.
Authorization with Email & Social Media Platform
Allow your users to sign-up/login into the app in different ways, including email, mobile phone, and social networks like Facebook and Google+. As per the convenience, users prefer to sign-up and login into the app.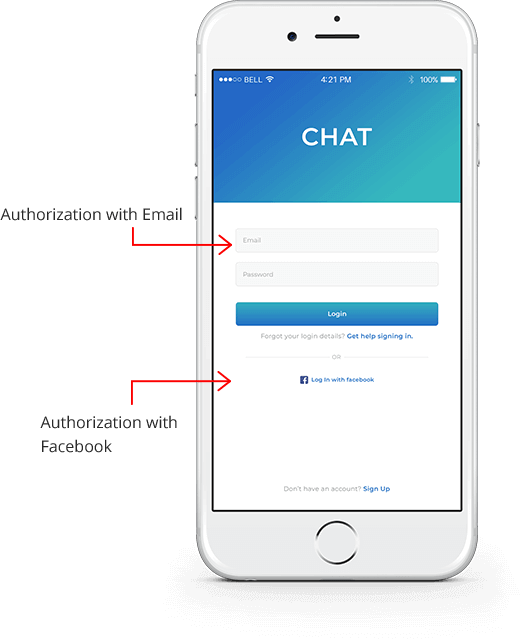 ---
Activity Log
It enables your users to check all the recent activities performed by them on the app. Following/unfollowing people, commenting on the photos, and checking other users' post are easily possible in the activity.
Search
Enable users to search for another user, including friends, relatives, or anyone using their name and user-name. To search people, your users just need to click on the search feature and enter the user's name or user-name.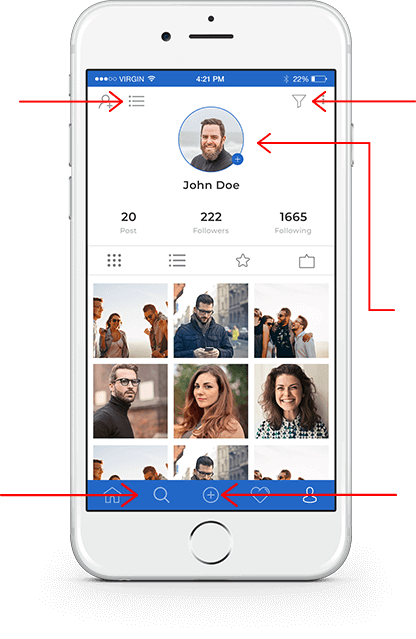 Filters to Edit Pictures
Editing pictures using different filters and editing tools like crop, color combination, rotate, straighten and perspective correction is easily possible using this feature. Your users can apply filter and upload picture/video on the app.
User Profile
Users can maintain a complete profile, including detailed information like name and email address, followers, following, the total number of uploaded photos/videos, and tagged pictures.
Upload Photos/Videos
Users upload photos and videos directly from the library or using the camera of the smartphone. By following a few simple steps, allowing users to upload multiple photos and videos.
---
Push Notification
It allows users to get real-time notifications when someone likes their pictures/videos, send an add request, mentioned them in a comment or any activity related to them.
Geolocation
Integrating geolocation plays an important role when your users want to share a place where a photo/video was taken. Even users can search the images with different locations.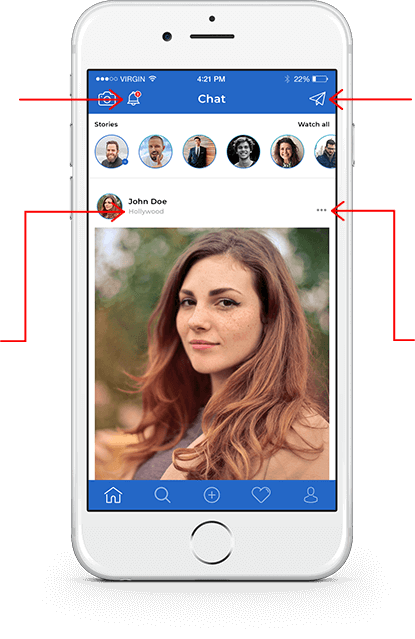 Direct Messaging
In-built messenger helps users to communicate with friends, followers and following. They can send messages to their followers and people, whom they follow.
Social Media Integration
Integrate other social media platforms like Facebook, Google+, and WhatsApp in the app to enable your users to directly share photos and videos with friends and relatives.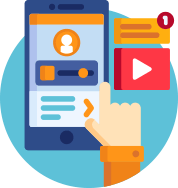 Want to Create App Like Instagram?
Process We Follow to Develop Instagram like App
01
Analyze Client's Requirements
Discuss your idea
Make a detailed report
Discover the solution
02
Wireframing
Prepare a blueprint
Make a wireframe for each screen
Design a solution
03
Designing
Start app designing
Design all the screen
Get your freedback
04
Development
Start app development
Module development
Delivering milestone
05
Testing
App performance testing
Code evaluation
100% bug-free app
06
Deployment
Deploy app to Play Store & App Store
Transferring app ownership
App maintenance
Technology Stack Behind Photo Sharing App
like Instagram & Flickr
Top Photo & Video Apps Developed by Us
9 out of top 200 photos apps in "Photos/Videos" app category are developed by us, and here are some of those top apps that enable users to edit photos, apply filters, and share it on social media networks. Based on our experience and expertise, we do know how to make a new Instagram like app.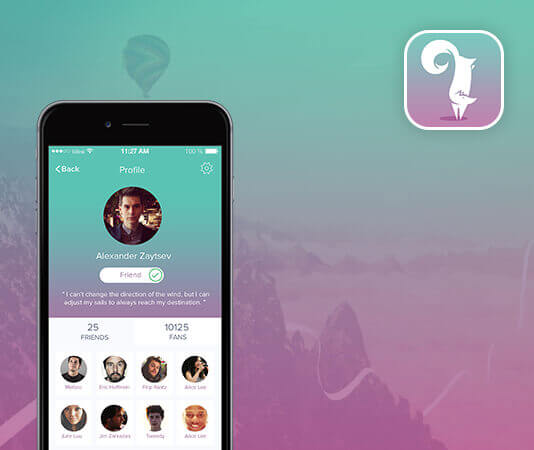 Teezr is a photo sharing app that allows users to send censored pictures and messages to friends and relatives. The censored pictures will become uncensored once the set timer reaches zero. Using this app, users can take a picture or write a message, add censors, set the time and tease away. Once the full content is seen, it will disappear forever. Here are some of the top features of Teezr app:
In-app Messaging: It allows users to send direct messages to their friends and loved ones. They can have a one-to-one chat with any user they want.
User Profile: Users can maintain their profile, where they can check their friends and fans.
Upload Pictures/Videos: The app allows users to directly send pictures and videos to their friends and loved ones from the gallery.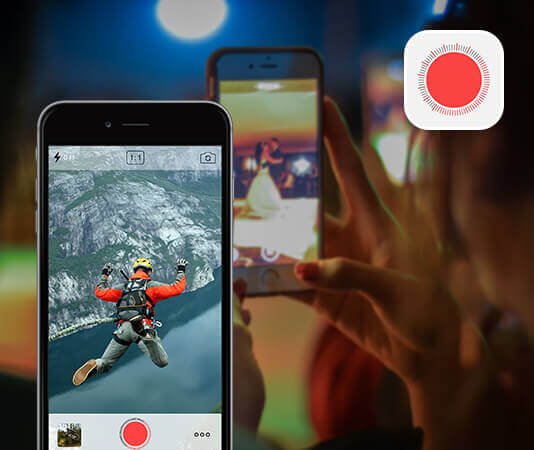 Slow Motion Video Editor –
A Slow Motion Video Editing App
Developed by our app experts, SlomoLapse is a video editing app that allows users to create slow-motion videos by applying both slomo and timelapse. Users can slow down part of a video and make the rest part quicker.
In short, the app is designed and developed to adjust the speed of videos, so users can create some of the beautiful videos that are created in slow-motion. Check out some of the exclusive features of the app:
Video supporting with Slo-mo & Timelapse: Users can capture videos by applying both slo-mo and timelapse in a single video.
Social Media Integration: Share captured videos with friends and relatives on Facebook, Twitter, Instagram and WhatsApp.
Save to Gallery: Users can save videos directly to the gallery.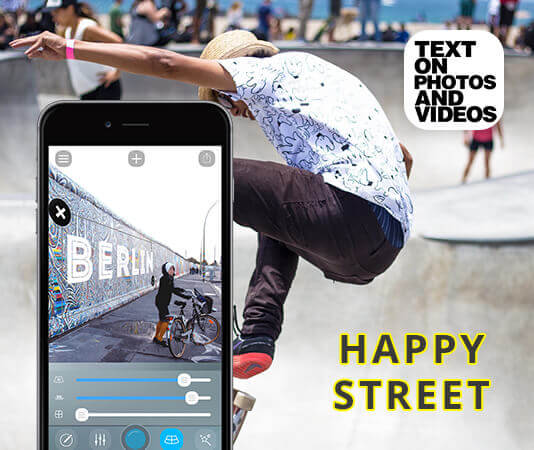 Text Caption on Photos –
Add Caption on Photos & Videos
Listed in the top 200 photos app in the "Photo Videos" app category, Text Caption on Photos is a caption adding application that developed by our team. Using this app, users can add real-time text and filters to pictures and videos and share it on social media networks.
Within just a few seconds, users add captions, quotes, and custom typography directly to the camera, click it and share it with friends. Here're some of the unique features of the app:
Editing Tools: Using different editing tools, users edit pictures and videos as per their choice.
Real-time Filters: The app allows users to apply real-time filters to the camera, allowing them to click picture or video using any filter.
Social Media Integration: Users can directly share the editing pictures and videos on social media platforms like Facebook, Twitter, and Flickr.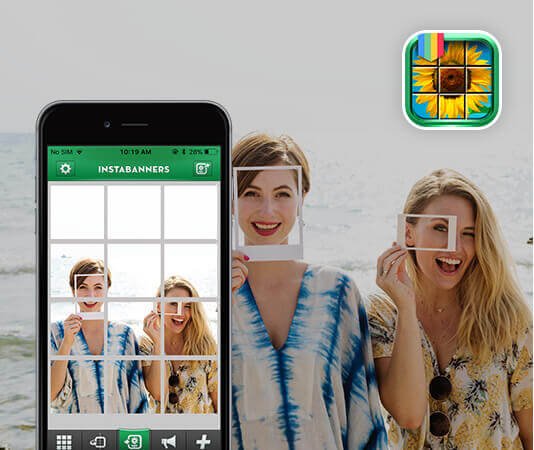 InstaBanners – An Insta Banner App
InstaBanners is a banner application, allowing users to post banner pictures on the Instagram. Using this application, users can create some of the amazing banners to get more followers, get more likes and amaze their friends. The app comes with some of the top features, including:
Image Converter: It allows users to convert their best pictures into InstaBanners to share on the photo-sharing app.
Import Picture: To convert your picture into InstaBanner, you can directly import your pictures from your device.
Edit Pictures: Users can edit, zoom and rotate their pictures to make perfect.
Want to Create a Similar App? Get Your Free Quote Now.
How Much Does it Cost to Create an
App Like Instagram?
So, you want to know the cost of making an app like Instagram. From the table, you can know the estimated development hours of Instagram like app. This table highlights all the features of the photo-sharing app along with its development, designing, and testing hours.
We Develop Instagram-like Apps for
the Following Top Categories

Instagram for Business

Instagram for Food

Instagram for Teens

Instagram for Kids

Instagram for Developers

Instagram for Dating
Why Choose Space-O Technologies?
99%
Success Score on Upwork
4400+
Apps Live on App Stores
1000+
Jobs Completed on Upwork
55+
Unique Feature Implemented
100+
Small and Large Innovation
200+
Mobile App Developers
30M+
App Downloads
12+
Years of Experience
1200+
Clients Worldwide
Appreciation from Clients
Space-O helped to design the app in a very user-friendly way. They helped us to navigate solutions for the app.

I would like to thank the entire Space-O team for helping us with our photo editing app. We have been working with other developing teams before, and we were able to find Space-O. And all the other developers failed to deliver all great working apps for us. Space-O helped to design the app in a very user-friendly way. They helped us to navigate solutions for the app. And overall went above and beyond with our request.

They were highly recommended to me by my mentor and I am so glad that I chose to work with them.

This was the first app I've ever developed and they been extremely helpful every step of the way, answering questions, writing recommendations, and tips. If you're looking for a high-quality app, definitely go with Space-O technologies.

We were all quite demanding in terms of quality, but Space-O has managed to go beyond, to fulfill our expectations.

When we started 2 years ago, the main struggle was to find the right developing team, because the problem was we were all quite demanding in terms of quality. And, this showed that we were able to develop some successful apps. But, this would not have been possible without Space-O.

Riccardo Petrachi
United Kingdom
We searched online for app developers that had an extensive experience in mobile app development as well as a strong presence in the market. We chose Space-O specifically because of the up-close experience we had with another app they had developed and we wanted to achieve the same high level of standards, quality, and satisfaction. We were looking for brilliant experts and we found them.
Douglas Laver
Australia
The Space-O team were great to work with. Every part of the process went as per the agreed schedule, and the finished prototype met, and in most cases, exceeded my expectations. While Space-O wasn't the most price competitive of the quotes I received, the quality of their work, professionalism, and product, was well worth the additional cost. Highly recommend, and will continue to use their services for future projects.
Ashton Asherian
USA
Space-O Technologies showed genuine interest in the project. The efficient team delivered quality results at a cost-effective price. We wanted to develop a minimum viable product that would be ready for scalability. It was a great experience working with them. We are so happy that we had the chance to meet Space-O. We love their work. Their project management and structure were amazing. The team loved what they were doing. There was passion behind every single piece of work.